Everest Base Camp Trek in September offers you a different experience from EBC Trek in other months. It is different from trekking Everest in October or May. September has a significant contribution to the tourism industry of Nepal.
It is the first month of the autumn season in Nepal. This is also a transitional time between the monsoon and the autumn seasons. Therefore, this month experiences the features of both seasons. The Everest Region has a cool and mild temperature in September.  Everest Base Camp trek in September rewards you with lesser crowds, easier facilities of food, beverage, and accommodation, and more amazing views of the Himalayas.
If you do the Everest Base Camp trek in September, you will enjoy green vegetation s, lush pastures, and blue skies adding more to the beauty of the snow-capped mountains. There fall several Nepali festivals in September. You can become a part of or observe the magnificent aspects of these festivals. Weather Conditions September falls under the peak season of Everest Base Camp Trek. The flow of trekkers from home and foreign countries increases largely because of the mild temperature and stable weather conditions.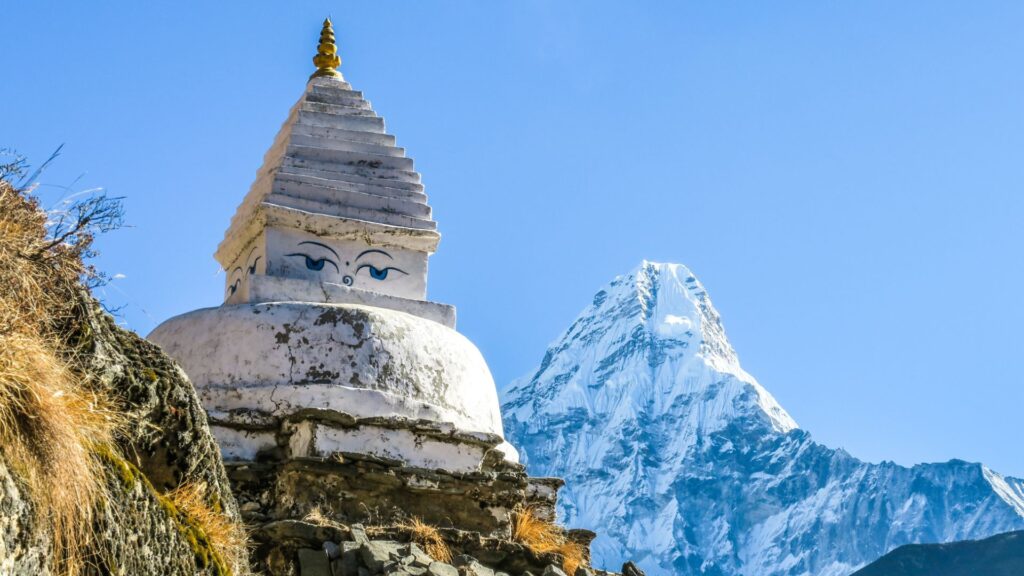 Weather in the Everest Region remains pleasant and warm in September. The temperature in the morning and night remains low while the daytime experiences a little higher than chilling cold. The average temperature of the Khumbu Region in the month of September is listed in the table below:
Stopover Temperature Range ( Everest Base Camp Trek in September )
Lukla (2,829m) 9.5 - 17.5
Namche Bazar (3,463m) 5.8 - 14.5
Tengboche (3,860m) 4 - 12
Dingboche (4,483m) 0.3 - 11.5
Lobuche (4,910m) -1.7 - 9.6
Gorakshep (5,180m) -2.6 - 8.7
Everest Base Camp (5,364m) -3 - 7
Kalapatthar (5,644m) -3 - 7
Number of Trekkers
Being one of the peak seasons, Everest Base Camp Trek in the autumn season is done by thousands of national and international trekkers. The Everest Region remains crowded with a large number of trekkers. However, September is the first month of the autumn season. Thus, the Everest Base Camp trekking trail doesn't get crowded until October.
You don't have to worry about finding lodges and hotels for food and accommodation. Contrarily, do you love quiet trails in the pleasant weather serving the best natural scenery? If yes, Everest Base Camp Trek in September is the best option. It looks as if the trekking route to EBC were all yours!
Cost of Everest Base Camp Trek in September
As a whole, the cost of the Everest Base Camp Trek in September doesn't differ much from other seasons. The EBC, Everest Base Camp, Gokyo Lake trek, High Pass Trek, Three Pass Trek, and all the Trekking permits have the same price throughout the year. The cost of food, beverage, and accommodation in September also ranges the same as in the other months.
Nevertheless, to some extent, the packing list helps minimize the Everest Base Camp Trek in September price in September. You don't need the heavy clothes which you need in EBC Trek in the winter. Likewise, as you can travel to the Everest Region by taking light backpacks, you don't have to pay daily wages and incentives for porters. It also helps you to decrease the price of the Everest  Base Camp Trek in September.
Packing List
Knowing "What to pack while trekking to Everest?" is important for you as a trekker. Early September experiences rains as the monsoon might still be active. You need to keep rain gear in waterproof backpacks. The temperature differs from one place to another based on the elevation. Thus, don't forget to include layered clothes in your packing list.
Mornings and nights are colder while days are warm. Consider packing clothes useful for both temperatures. Various bugs including leeches are active in this season. Therefore, keep insect repellents to prevent yourself from being stung by these innocent creatures.
Getting There and Return
You have a few options for getting to the EBC trailhead from Kathmandu. Officially, the Everest trek begins from Lukla which is also known as the gateway to the base camp of Mount Everest(8,848.86m). Lukla can be reached directly from Kathmandu via a flight. Lukla Kathmandu flights often take 30 - 35 minutes. Sometimes, the weather might cause poor visibility due to fog, mist, and occasional showers. The disturbance in weather causes flight delays and sometimes cancellations as well.
Alternatively, you can take a bus drive to Jiri, Dolakha from Kathmandu. Jiri to Everest Base Camp Trek route is a lifetime achievement of following the footsteps of Sir Edmund Hillary and Tenzing Norgay. This very route was followed by the duos during the 1953 Everest Expedition. Phaplu to Lukla and Salleri to Lukla are yet other options for the Kathmandu Lukla flight and the Jiri Everest Base Camp Trek route. Both Phaplu and Salleri have airports that receive direct flights from Kathmandu Airport.
Among the available options, a flight to Lukla from Kathmandu is the shortest route to get to the trailhead. Beginning from Lukla, you will return after 10 – 11 days and even shorter to Kathmandu by completing the epic Everest Base Camp Trek package. However, if you follow other routes, you need to add 3 – 4 more days to return to Kathmandu.
Festivals in September
September in Nepal is also known as the Festival Season. Besides trekking in the Himalayas, you can also enjoy various festivals in and out of the Kathmandu Valley. Indra Jatra is a chariot-pulling and worshipping festival observed in Kathmandu. Similarly, Teej and Dashain are celebrated throughout the country. To enjoy and become a part of these festivals, we suggest you plan for trekking to Everest in September.
Last Say
September is the first month of the autumn season in Nepal. While trekking to Everest Base Camp Trek in September, you will have a different experience from other packages of trekking in Nepal. The mild temperature, blue skies, and stable weather serve you the most beautiful scenery of the snow-capped mountains including Mt. Everest (8,848.86m). Traversing along the Sherpa Land in September is more suitable for those who desire quiet trails and comfortable food accommodation services.
Everest Base Camp Trek in September