The journey is not merely about conquering trails; it's about immersing yourself in the rhythm of the Himalayas, feeling the pulse of life in remote settlements, and sharing stories with fellow trekkers from around the globe.
Manaslu Circuit Trek combines breathtaking scenery, close contact with locals, and an understanding of their rich culture – everything you could expect from a traditional trek in Nepal.
Manaslu Circuit Trek is one of the top treks in Nepal. In contrast to other teahouse treks which are widely known and frequently visited by tourists, Manaslu Circuit Trek remains distant from mainstream attention and is not as commonly explored, despite experiencing a recent increase in popularity.
Manaslu Circuit Trek offers a more secluded and less crowded experience compared to the more established and widely recognized teahouse treks in Nepal.
The trek is a journey where you will walk around Manaslu, which is the eighth-highest mountain in the world reaching a height of 8,163 meters above sea level.
You will be experiencing a variety of cultural influences, people, and their way of life. When you get to the higher parts of the Manaslu area, the people there have a unique way of life. The people there follow Tibetan customs and beliefs, which are connected to Buddhism.
Along the way, you will be treated to amazing views. The scenery will be stunning and awe-inspiring with huge, towering mountains all around you.
Manaslu Circuit Trek is a harmonious blend of nature's beauty and cultural enchantment. Manaslu journey winds its way through a network of pathways that are gracefully shaded by the towering presence of the Manaslu range.
But this journey is not just about cultural immersion; it is also a thrilling adventure that unfolds in the heart of the Himalayas. As you will be ascending and descending through varying terrains, from lush forests to high alpine meadows, you will experience the full spectrum of nature's beauty.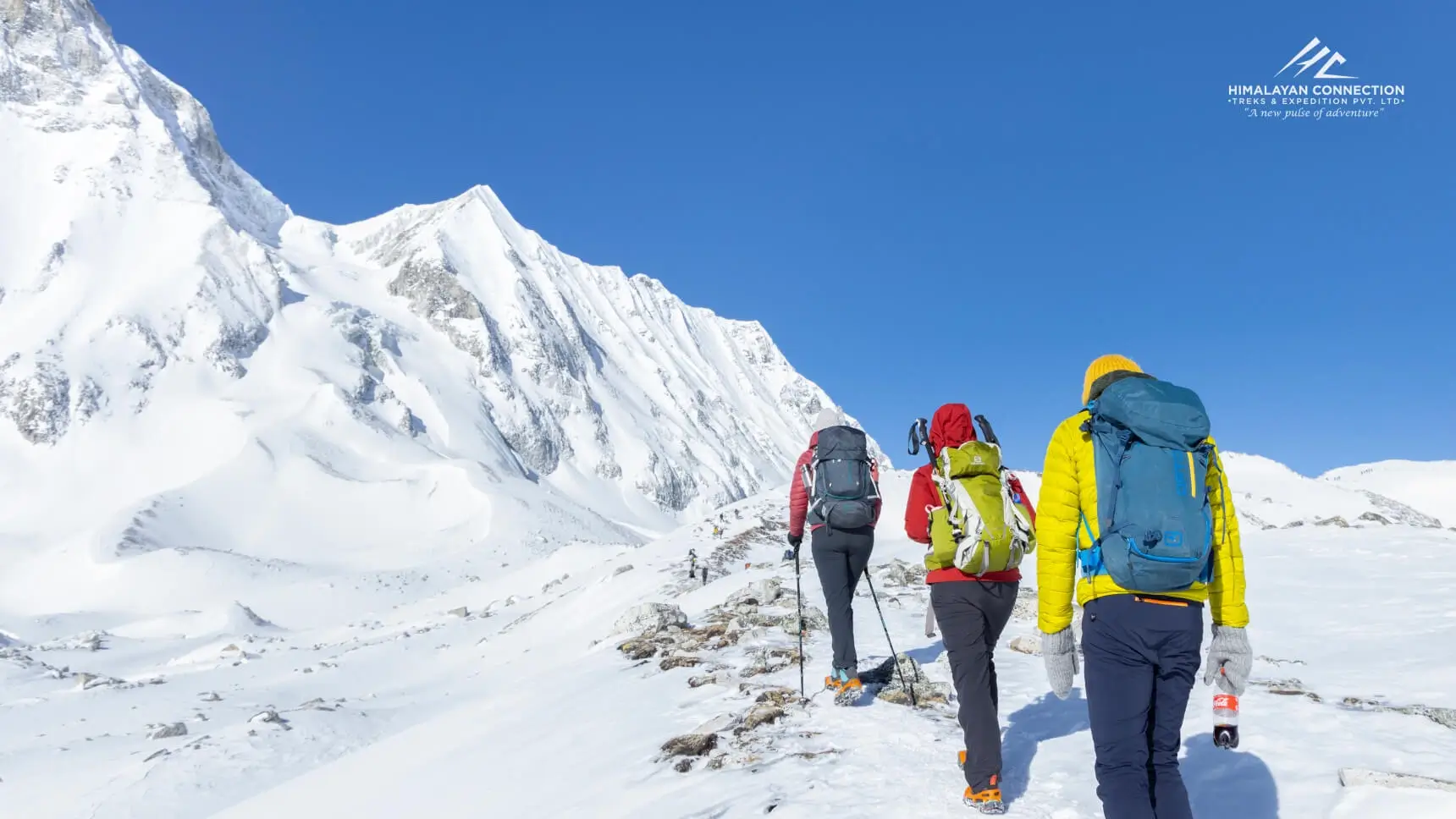 You will be crossing the Larkya La Pass, located at an elevation of 5106 meters, it is one of the most challenging parts throughout the Manaslu Circuit Trek. Manaslu area is a beautiful location with a gorgeous landscape and various terrain.
Throughout the trek, you will find a variety of plants and animals, rivers, waterfalls, gorges, and other natural features. In addition, the trek offers untouched nature, biological richness, traditional culture, unexplored pathways, a sweeping panorama, and unmatched splendor in nature.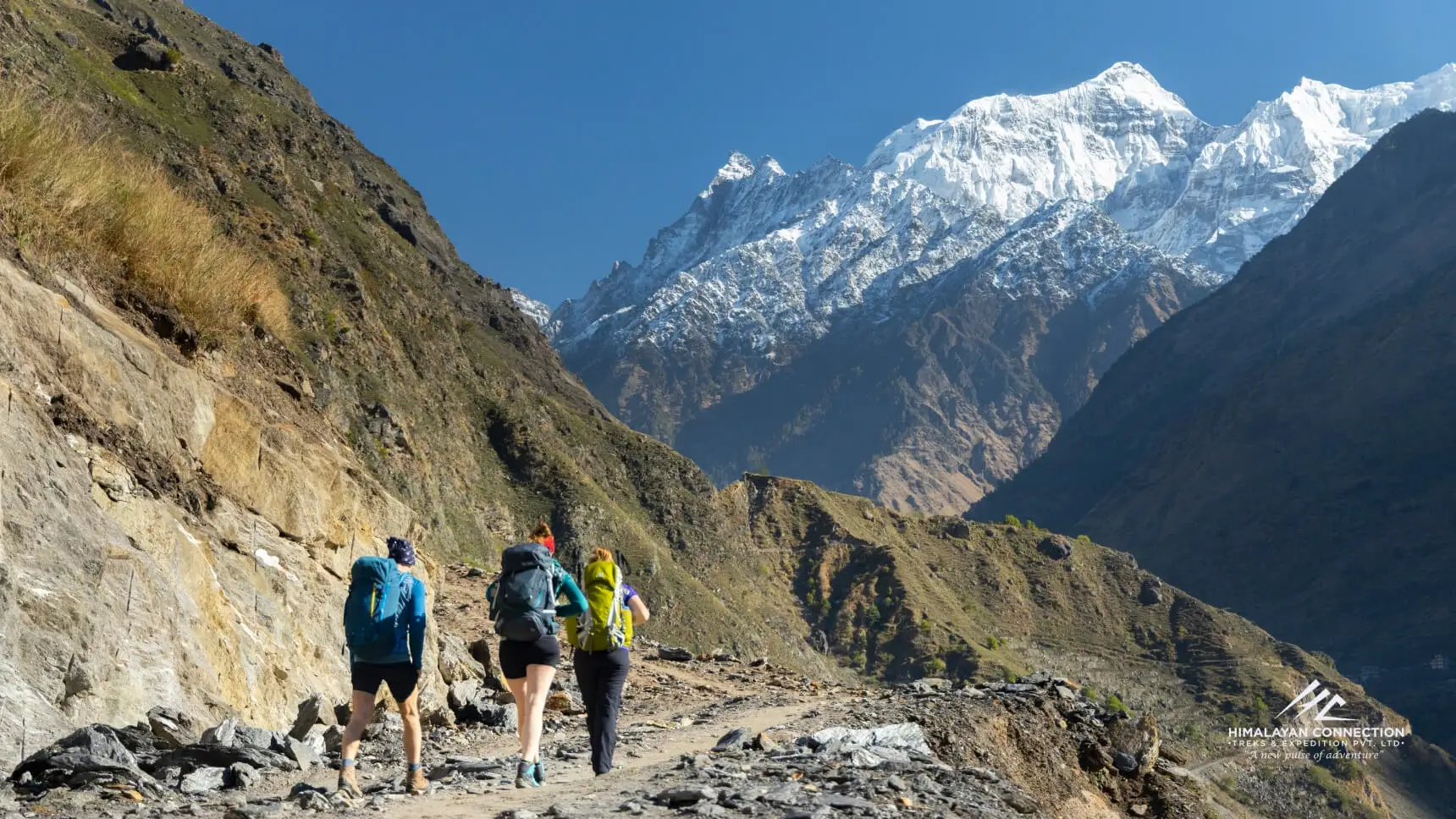 Trekking through the wild Manaslu region can be an exhilarating experience. Manaslu Circuit Trek has a lot to offer for enthusiastic and daring trekkers. It is a once-in-a-lifetime opportunity to explore the peaceful trekking trails, unspoiled scenic wonders, and its ecosystem.
Manaslu Circuit Trek's unique and stunning scenery will lead to a few of the most remote communities, several magnificent waterfalls, amazing rivers, and alluring views of the ethereal mountain ranges and lush green countryside.
Otis from Wisconsin said this about the Manaslu Circuit Trek with us:
I have trekked two times with Sujan as our guide, once in 2016 to Annapurna Base Camp and again in 2019 when we did a 30-day trek in the Manaslu and Annapurna regions, including the Tsum Valley He is a fabulous guide: reliable, knowledgeable, flexible, very personable, and has an excellent sense of humor. He always looks out for his clients to ensure they enjoy their journeys, and he has had experience guiding in emergency situations where his skills and experience saved lives. This young man is someone I would highly recommend as a trekking guide.
Gazwell said this about the Manaslu Circuit Trek with us:
I have trekked in Nepal three times, the last two with Sujan as our guide. He greatly enhanced our overall experience with his knowledge, attentiveness, energy, resourcefulness and sense of humour. We consider him a friend and still keep in touch with him. In 2016, a group of us trekked to Annapurna Base Camp, after which four of our party trekked the western leg of the Annapurna Circuit. When one of our party had to return to Canada part way through the trek, Sujan was instrumental in ensuring he got back to Kathmandu quickly and safely while the rest of us finished our trek. In 2019, we did a 30-day trek in the Tsum Valley and Manaslu and Annapurna Circuits. Again, he helped us make the most of a challenging but incredibly rewarding journey. And again, when one of our party had to leave early for health reasons, Sujan's concern and diligence ensured that our friend returned to Kathmandu quickly and safely while we carried on. I confidently recommend Sujan to organize and lead a memorable experience in Nepal.
Nele has to say this about the Manaslu Circuit Trek with us:
We went on the Manaslu Circuit Trek in April 2023. Before the Trip, Sujan was always available via WhatsApp and answered our questions quickly. He also organized our trekking permits beforehand so we did not have to stand in line anywhere. Our guide had to cancel due to Family issues the night before we were supposed to leave, but Sujan stepped in immediately. Well organized transfer to and from our hike with a private Jeep. He also organized a very nice porter. Additionally, as a professional photographer, Sujan took his very good camera on the trip, so we will even get very nice pictures from the trekking. Thanks a lot for everything Sujan, especially for spontaneously stepping in!
When is the best time for the Manaslu Circuit Trek?
The best time to trek the Manaslu Circuit is from March to May (Spring Seasons) and from September to November (Autumn Season).
Since the weather is stable over this time, trekkers can fully appreciate every spectacular feature of the expedition. Along with the pleasant weather, one may see the stunning scenery of Mt. Manaslu and other spectacular natural settings.
Manaslu Circuit Trek in Spring Season
Spring brings new beginnings, as blossoms start to bloom, offering a cool and pleasant atmosphere filled with nature's fresh perfume. Mornings begin chilly but gradually warm up during the day, making it an exciting time to explore.
The beauty of the routes and the breathtaking mountain scenery are unparalleled, despite the chilly weather. This is the perfect moment to travel and experience everything at its finest.
Lower elevations remain comfortably cool, while higher altitudes can be quite cold. Everywhere you look, vibrant greenery dominates, from flower buds ready to burst open to the lush pigments of tree leaves.
Spring season is prime time for enjoying mesmerizing mountain views and exploring lesser-known hiking trails. It's like a glimpse of paradise.
Nature truly flourishes with vibrant blooms and majestic mountain vistas during this season. The spring Manaslu Circuit Trek is particularly special, allowing you to witness mountains glistening under the clear blue sky.
Manaslu Circuit Trek in Spring Season offers an enchanting experience and all the elements of a class adventure.
Manaslu Circuit Trek in Autumn Season
Autumn Season is undoubtedly the perfect time to plan and embark on the Manaslu Circuit journey. The sky is clear and serene, while the scenery remains as breathtaking as ever during Autumn.
When it comes to experiencing the Manaslu Circuit Trek, autumn is the ultimate choice due to the ideal weather conditions for the adventure. Specifically, the months of September, October, and November mark the autumn season.
Autumn arrives after the rainy season, bringing its own beauty to the landscape. It's a splendid time for outdoor activities, and the Manaslu Circuit Trek truly shines during the season. The allure of this trek lies in its captivating beauty and tranquil atmosphere.
As you embark on the journey, you will be greeted by panoramic views of snow-capped peaks, rolling hills, and picturesque lowlands.
The trail takes you through scented, pristine forests, creating a delightful walking experience. When you reach the highest point of the Manaslu Circuit climb, you will be treated to a spectacular display of fall foliage.
This vantage point also offers unobstructed views of neighboring hills, majestic mountains, and lush valleys. Along with the stunning scenery, the upcoming autumn festivities and activities promise to keep you thoroughly entertained.
Embarking on the Manaslu Circuit Trek in September provides a unique opportunity to immerse yourself in the rich culture and distinct way of life of the Buddhist people.
You will have the chance to learn about their prominent festivals-Dashain and Tihar-along with their intricate customs and observances. 
Manaslu Circuit Trek Difficulty
Manaslu Circuit Trek might pose challenges for beginners who lack physical stamina and determination. Various issues such as harsh weather and difficulties in ascending to higher altitudes could arise during the journey.
Thus, it's crucial to adhere to proper safety procedures before embarking on the Manaslu Circuit Trek.
Keep in mind that the Manaslu Circuit Trek and its associated itineraries don't include luxurious accommodation. Given that this region is one of Nepal's most remote areas, you'll find basic comforts like teahouses as your lodging options.
While choices might be limited, once you begin your trek, these accommodations might become less of a concern.
Dealing with altitude sickness is a significant challenge during the Manaslu Circuit Trek. The risk of encountering altitude sickness, as well as conditions like HAPE and HACE, significantly increases at altitudes above 3500 meters.
Additionally, you'll need to cross the Larkya La Pass, which sits at 5106 meters. Therefore, it's of utmost importance to take thorough safety precautions.
Permit Required for Manaslu Circuit Trek
Embarking on the breathtaking and exhilarating Manaslu Circuit Trek comes with certain essential requirements, and obtaining permits is a crucial step.
Exploring the Manaslu region necessitates specific permits to ensure a seamless journey. The permits you'll need are as follows:
Manaslu Restricted Area Permit (MRAP)
Manaslu Conservation Area Permit (MCAP)
Annapurna Conservation Area Permit (ACAP)
Trekkers' Information Management System (TIMS) Card
To acquire these permits, there are specific steps you must follow. Once you have successfully obtained these permits, you'll be all set to embark on the pristine Manaslu Circuit Trek, creating unforgettable memories along the way.
It's important to note that these permits not only facilitate your adventure but also contribute to the preservation of the natural beauty and cultural heritage of the region. These measures ensure that both trekkers and the environment are well taken care of during this remarkable journey.
What should I pack for Manaslu Circuit Trek?
There are things to take and things to leave once you begin backpacking for the Manaslu Circuit Trek. Himalayan Connections has curated a list for you to learn more about Packing List for Manaslu Circuit Trek.