General Fact About Nepal
General Fact About Nepal - Nepal is naturally the most beautiful country in the world. The Himalaya located country has landlocked territory and lies in between two giant countries China and India. The highest mountain on earth called Mount Everest is in Nepal. Not only Everest, but it also has other eight highest mountains that measure the height of above 8 thousand meters. They are Mount Everest – 8848 m, Kanchenjunga – 8586 m, Lhotse – 8516 m, Makalu – 8481 m, Cho-yu – 8201 m, Dhaulagiri I – 8167 m, Manaslu – 8156 m and Annapurna I – 8091 m.
Nepal is it has the deepest Canyon on earth. Kali Gandaki canyon with 6400 meters is the world's deepest canyon, the difference between the level of the river and the peak surrounding it. Likewise, Kathmandu Nepal's capital was once a lake. Another general fact is that Nepal is the birthplace of Lord Buddha. The fearsome Gurkhas are also from Nepal. Nepal uses its traditional Calendar Bikram Sambat unlike the Gregorian calendar used in the West. Dal Bhat set  (lentil soup, rice, curry, pickle, vegetables, etc.)   is a national food and Nepalese eat it two times a day.
                                                                        Area and Population of Nepal
A small country Nepal covers a total area of 147,181 sq. km in the globe. and there are 28.09 million people in Nepal          ( population of Nepal ) according to the latest survey in 2018.
                                                                         Culture And Festivals Of Nepal
Nepal is rich in diversity. That's why there are so many kinds of culture and festivals are being celebrated. Dashain, Tihar, Chhath, Sakela, Maghe Sankranti, Lhosar, Teej, Sripanchami, Indrajatra, Ghodejatra, Samachakhewa, and so many other festivals are the example of Nepal's cultural and festivals. Among these, celebrations of culture and festivals are different in Nepali communities, villages, and city areas.
                                                                        Ethnic groups and Languages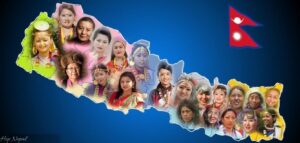 There are so many ethnic groups and languages in Nepal. More than a hundred ethnic groups use their own language in Nepal. According to Wikipedia, Nepal's diverse linguistic heritage evolved from three major language groups: Indo-Aryan, Tibeto-Burman languages, and various indigenous language isolates. According to the 2011 national census, ninety-two different living languages are spoken in Nepal (a ninety-third category was "unspecified"). Based upon the 2011 census, the major languages spoken in Nepal are Nepali, Maithili, and Bhojpuri.
Season in Nepal
4 season 
1 Spring: March-May
2 Summer: June - August
3 Autumn: September - November
4 Winter: December - February
Nepali season  ( 6 seasons)
1 Basanta Rheetu ( mid- March to mid - May) =  Spring
2 Grishma Rheetu (mid - May to mid - July) =  early Summer
3 Barsha Rheetu ( mid -July to mid - September) = Summer Monsoon
4 Sharad Rheetu (mid - September to mid - November) = early Autumn
5 Hemanta Rheetu ( mid - November to mid - January ) = late Autumn
6 Shishir Rheetu ( mid - January to mid - March ) = Winter
                                                                     Currency and Monetary unit 
Nepali Rupees are the currency of Nepal. The denomination of Nepali rupees is NRs. 1, NRs. 2, NRs.5,  NRs. 10, NRs. 20, NRs. 50, NRs. 100, NRs. 500, NRs. 1000.
1NRs. = 100 Paisa
Telephone / cell phone code
+977