Holi Festival In Nepal, the festival of colors and cheers. This colorful festival is celebrated to mark the victory of god over evil. Holi festival is one of the biggest and most ancient festivals celebrated by Hindu people which comes every year during February first half or March first half. It is also known as the 'Festival of Colours' as it is especially played with colors.
Holi starts on the day of the full moon in the month of Phalgun and takes place over two days. Holi Festival also marks the beginning of spring and the ending of winter. There is a mythical reason and history for celebrating the Holi festival.
Especially, Nepal and India celebrate Holi Festival with great zeal and zest. It is
also regarded as a festival of love because people celebrate it together by forgetting their envies
and bitterness.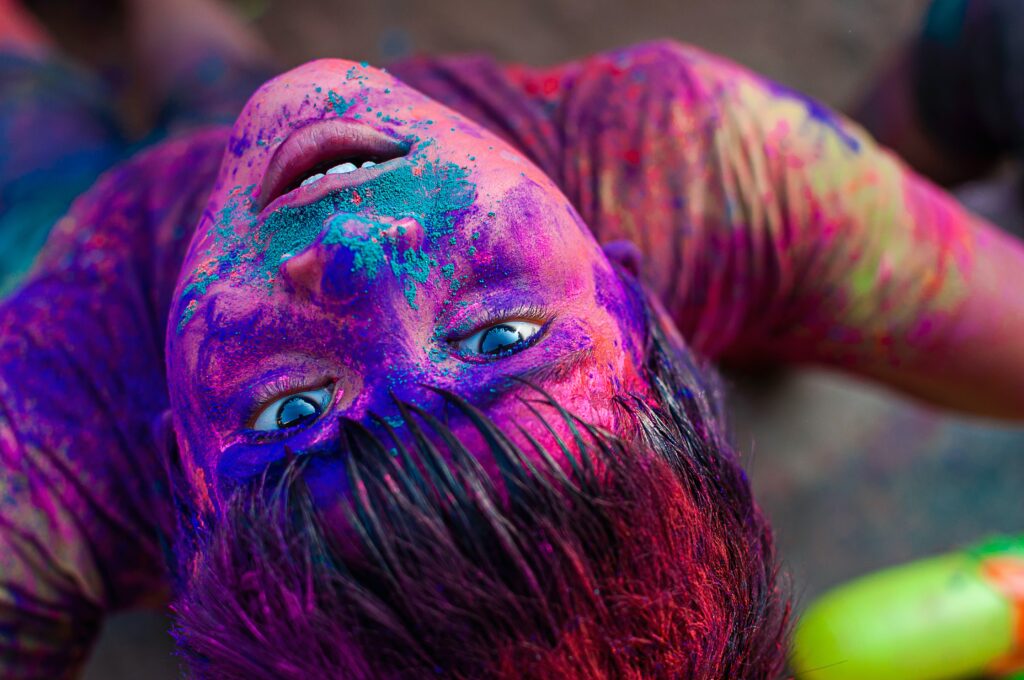 Holi is also called Phagu Purnima because it falls on the full moon day of Phalgun, the 11th month
of the Nepali Calendar. According to the Gregorian calendar, it falls in either February second
half or March first half. Phagu is a derivative of the Sanskrit word Falgu. Its meaning is beautiful,
handsome, fine, and other positive attributes. It also denotes the spring season.
Holi Festival is also celebrated in other parts of the world. Obviously, festivals are the typical
identity of a nation and its people. Some festivals are also celebrated by a specified community
to mark their own identity.
Holi Festival Myth
Holi Festival is related to Hinduism. There are several myths about Holi and its celebration.
However, the most agreed and popular story relates Lord Vishnu, Hiranyakashyap, Prahlad and
Holika. Prahlad is son and Holika is sister of Hiranyakashyap.
According to Hindu culture Holi is associated with the story of Prince Prahlad.(Hiranyakashyap-father of Prince Prahlad) A demon king who believed to be immortal and wanted everyone to worship him as a god but his own son, Prahlad choose to worship Lord Vishnu instead, which offended his father.
So, Hiranyakashyap ordered his sister Holika to burn Prahlad.Prahalad was about to burn in the fire but the devotion of Prahlad earned him the care of Lord Vishnu and he escaped unharmed instead Holika herself was consumed in the fire. The stepping out of Prahlad signified the triumph of God over evil and people started celebrating Holi in the remembrance of this day.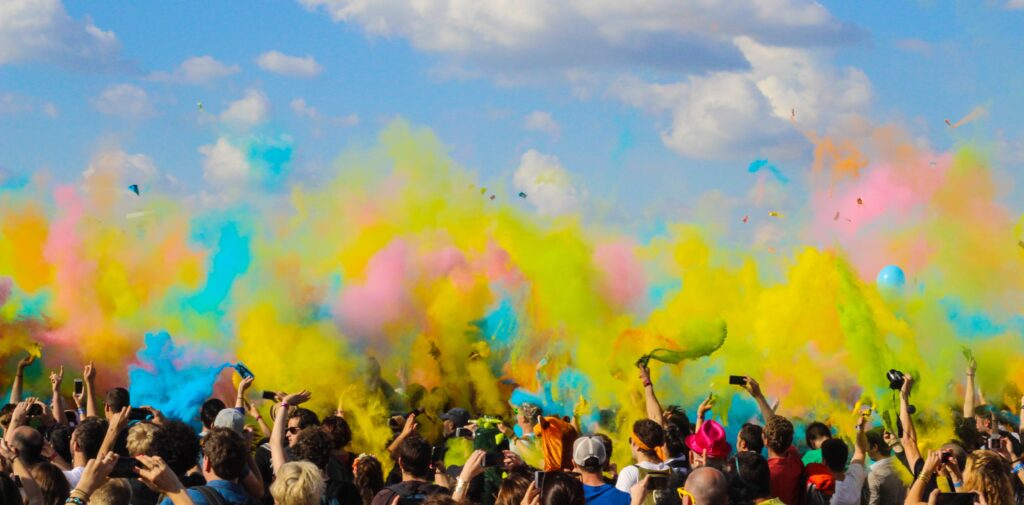 How is Holi Festival celebrated in Nepal?
Holi Festival in Nepal is observed for two days by region: the first day in the Hilly and Mountain Regions and the second day in the Terai Region.
Holi Festival in Nepal is celebrated for two days, the first day is called Holika Dahan(burning of Demon Holika). Holika is burnt on the night of full moon day where people gather, perform rituals in front of the bonfire, and pray that their internal evil will be destroyed the way Holika was burnt.
The next morning is celebrated as Rangwali Holi-a free- for all festivals of color where people smear each other with colors. They make each other colorful by putting different colors. Water guns and water-filled balloons are used to play Holi. Everyone from small children to old people, rich or poor, friends or strangers is fair in-game and celebrate Holi.
Young men and women play Holi by singing and dancing  People carry drums and other musical instruments, go place to place sing, and dance. The best celebration of Holi is seen in the streets of Kathmandu, Pokhara. Mainly in the Thamel, on the Durbar Square, lakeside Pokhara, the main city of the country, and the surrounding. it is filled with powders of different colors. Even though this area is extremely crowded with lots of people. The whole area is also given a fun and joyful atmosphere with the help of music and dance.
They play with different colors and waters. But there is also the possibility that younger ones use dirty water, balloons, and synthetic items on the occasion. Using other than pure colors is all but
the wrong trend and misused the original concept of the festival.
A long bamboo stick called lingo in the Nepali tongue is raised in the Basantapur Durbar Square
or Kathmandu Durbar Square, one of the UNESCO World Heritage Sites in Nepal. The stick is
wrapped in clothes by applying various colors that are called Chir in the Nepali language.
Just the previous day of the Holi Festival, the stick is felled and the Chir is burnt to symbolize the
beginning of the festive occasion. That's why Holi Festival is also known as Chir Dahan or
Holika Dahan. Holika is regarded as an evil character for she obeyed her brother Hirankashyapu
and dared to kill Prahlad, a true devotee of Lord Vishnu. The burning of the Chir is supposed to
the burning of Holika.
For the foreigners, Holi Festival t0ur will be a new experience, where you can experience the lively culture, colors, and life of people. In Kathmandu, there are major touristic sports like Thamel, Kathmandu Durbar Square, Tundikhel, Lakeside Pokhara for tourists to celebrate Holi. Some concerts cultural events are organized during Holi.
The Holi Festival in Nepal, the celebration extends up too late at night and is the perfect way of celebrating festivals with friends and loved ones. Holi is best for photography lovers and filmmakers. You can capture joyful and colorful moments. For the foreigners, Holi is the unique way to enjoy, cheer themselves, and celebrate the different colors. We can have lots of fun, joy, happiness and make friends. Holi brings amusement to the heart of people. You can have a great time here. Once you experience the celebration here, it'll all seem worth it.
Last Say
If you want to experience Holi Festival and its celebration, we recommend you make your
Nepal visit either in the second half of February or the first half of March. You will indeed
become delighted to become a part of it.
Wearing a t-shirt printed with Happy Holi to You All and playing multiple colors with your
colleagues will definitely give you a lifelong memory of tour and trekking in Nepal.
Finally, Happy Holi to You All!